Mousekeplanner makes planning your Disney vacation magically simple!
We'll help you plan the best Disney Vacation with 
NO

 extra fees.
Latest From The Mousekeblog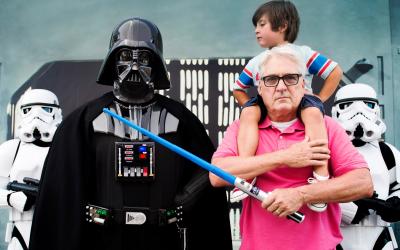 Come feel the power of the force when Star Wars Weekends returns to Disney's Hollywood Studios® at the Walt Disney World® Resort every Friday, Saturday and Sunday from May 15-June 14, 2015. This galactic event is filled with special shows, exciting presentations and... read more
What guests are saying about Mousekeplanner
Thank you so much for making our Disneyland trip this year truly magical!  Before getting put in touch with Leigh I was completely overwhelmed and didn't know where to begin.  Not only was she great about helping us select a hotel, but she helped us set up a wonderful payment schedule that she automatically took care of for us each month.  She made all our dinning reservations the day she could for the exact time/place I asked for.  Any questions I had, I emailed to her and she answered me within 30 minutes (no exaggeration) every time.  The cherry on top of the cake was when we received our trip information, she sent along a pack with a ton of wonderful fun gifts for my little one.  It was tailored to him and his age exactly…  She even sent a sucker in his favorite color!    I have worked with travel agents in the past and I can say HANDS DOWN this has been the BEST experience I have had, and any time in the future I go to Disney, I will be calling a Mousekeplanner for sure!  Thanks again!
Laura S.
I would recommend anyone who is thinking about planning a trip to Disney World to use Mousekeplanner. Our travel agent Leigh was absolutely the best I could have asked for. She made it so we had no worries with booking, planning, and reserving anything and everything. She literally took care of everything for us. We had a huge group of 25 people and she took care of everything like it was nothing. Any Disney questions you have, she will have the answer. I will definitely use Leigh and Mousekeplanner for every Disney trip from here on out!
Elissa S.
Just wanted to give you some feedback on my recent trip. I was referred to Jill and she was absolutely wonderful. I did not have to plan one thing, which was great because I wouldn't even know where to start. She set up all the arrangements and everything went off without a hitch from magical express to dining. It was so nice to not have to worry about something going wrong or wonder where we were supposed to be at what time. She sent a complete itinerary and it was like clockwork. Jill is very knowledgable about all things Disney and she is an asset to your company. We will definitely be coming back and I intend to plan with her again! Thank you!
Kristine K.